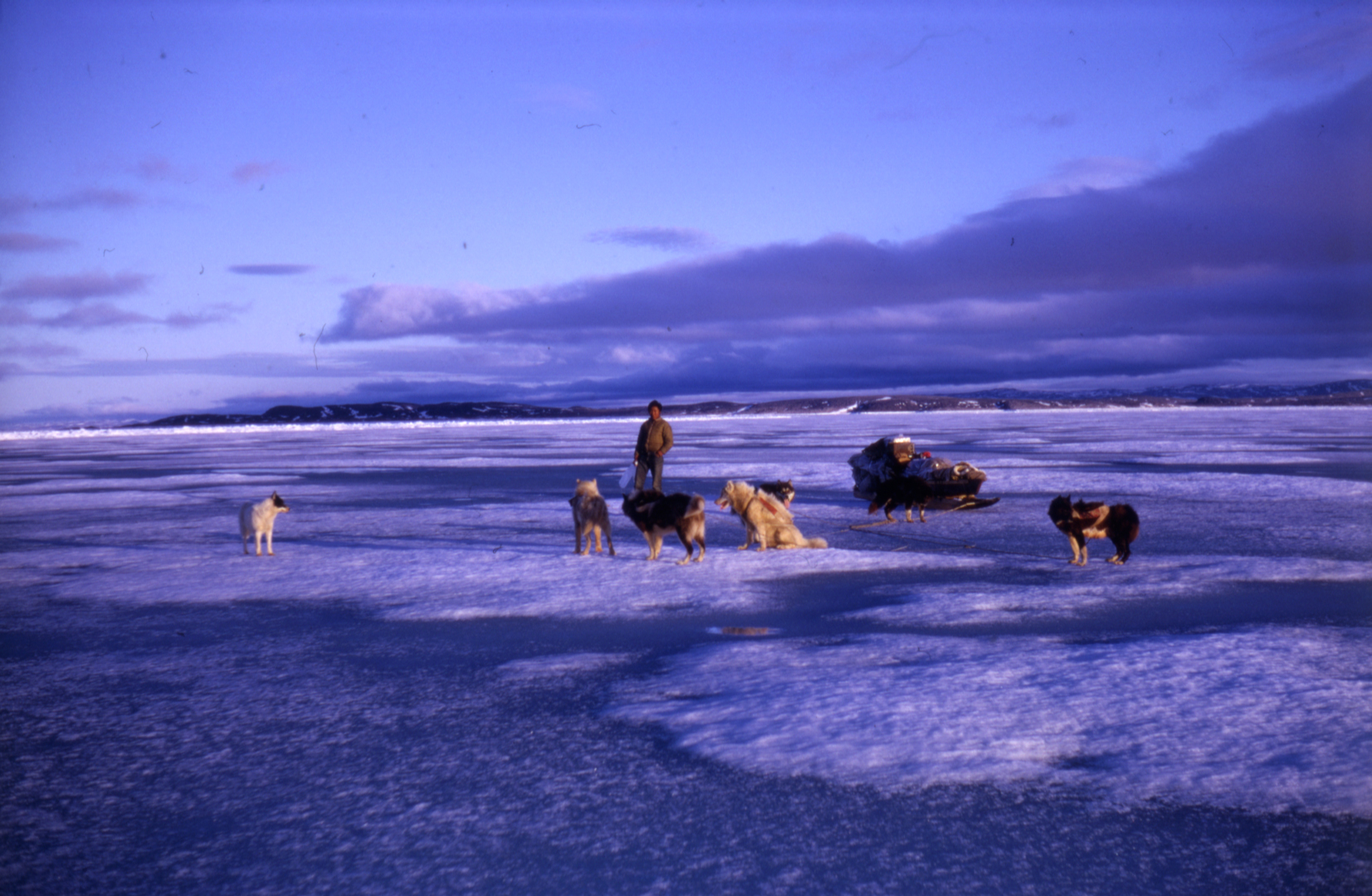 Kingulliit
Avataq Cultural Institute
2018
"Kingulliit" refers to the generation of Inuit born between 1900 and 1930 — the first in centuries to face a radically new world.
Through a series of seven short films shot between 1956 and 1974 in Nunavut and in Nunavik, renowned anthropologist Bernard Saladin d'Anglure explores a society in transition. The rare footage records Inuit daily life during two pivotal decades, from nomadic ways to traditional skills to spiritual beliefs. The accompanying website includes director's commentaries and background information on each film.
"ᑭᖑᓪᓖᑦ" ᐅᖄᕗᖅ ᐃᓄᓐᓂᒃ ᐃᓅᓕᓚᐅᕐᓯᒪᔪᓂᒃ 1900-ᐅᑉ 1930-ᐅᓪᓗ ᐊᑯᓐᓂᖓᓂ – ᐊᕐᕌᒍᕐᓂ 100-ᐅᓈᕐᑎᑐᓂ ᑖᒃᑯᐊ ᓯᕗᓪᓕᐹᓪᓚᕆᐅᓯᒪᔪᑦ ᑕᑯᓐᓇᓱᑎᒃ ᓄᓇᕐᕈᐊᖅ ᐊᓯᑦᔨᑐᒻᒪᕆᐅᓕᕐᑎᓗᒍ. ᐊᕐᖁᑎᖃᕐᓱᓂ ᑐᖓᓕᐊᕇᑦᑎᓱᑎᒃ ᓯᑕᒪᐅᔪᓐᖏᒐᕐᑐᓂᑦ ᓀᑦᑑᓱᑎᒃ ᓄᓇᕗᕐᒥᒃ ᓄᓇᕕᒻᒥᓗ ᑕᑯᓐᓇᕋᑦᓴᓕᐊᕕᓂᕐᓂᑦ 1956-ᐅᑉ 1974-ᓗ ᐊᑯᓐᓂᖓᓂ, ᖃᐅᔨᒻᒫᕆᔭᐅᔪᒻᒪᕆᒃ ᐃᓅᖃᑎᒌᑦᑐᓂᒃ ᓱᑯᐃᔦᔨᐅᓂᕐᒧᑦ, ᐱᕐᓈ ᓴᓚᑏᓐ-ᑖᖕᒃᓘᕐ ᐅᓕᕐᓀᓯᒐᓱᐊᕐᐳᖅ ᐃᓅᖃᑎᒌᑦᑐᑦ ᐃᓅᓯᖏᑦ ᐊᓯᑦᔨᓯᑎᓪᓗᒋᑦ. ᑕᑯᓐᓇᑕᐅᓚᐅᕐᓯᒪᑦᓯᐊᖏᑦᑐᖅ ᑕᑯᓐᓇᕋᑦᓴᖅ ᑕᑯᑦᓴᐅᑎᑦᓯᕗᖅ ᐃᓄᐃᑦ ᖃᐅᑕᒫᕐᓯᐅᑎᕕᓂᖏᓐᓂᒃ ᐱᒻᒪᕆᐊᓗᓂ ᐊᕙᑎᓂ ᐊᕐᕌᒍᕐᓂ, ᓄᓪᓚᓴᔪᐃᑦᑐᕕᓂᐅᑦᓱᑎᒃ ᓇᑎᕐᓈᒥ, ᐱᐅᓯᑐᖃᕐᑎᒎᓯᑦᓱᑎᒃ ᐅᑉᐱᓂᓕᕆᓯᑦᓱᑎᓗ. ᑖᒃᑯᓇᓂ ᐃᓚᐅᔪᖅ ᖁᒻᒧᐊᑎᑕᐅᓯᒪᔪᑎᒍᑦ ᑕᑯᓐᓇᕈᑎᒃ ᐃᓚᖃᕐᐳᖅ ᑐᑭᒧᐊᕐᑎᓯᔪᕕᓂᐅᑉ ᐅᖃᐅᓯᑦᓴᖏᓐᓂᒃ ᐊᑐᓂᓗ ᑕᑯᓐᓇᕋᑦᓭᑦ ᐅᓂᒃᑳᓱᒋᑦ ᖃᓄᖅ ᐱᒋᐊᕐᑕᐅᓚᕿᓐᓂᒪᖔᑕ.
Credits
Translators
Production
All credits